Progressive Rock CD Reviews
Uriah Heep
Salisbury
Review by John Pierpoint



This is Heep's second album outing, building on the success of their debut Very 'eavy, very 'umble, and starting to plough some refreshingly different furrows in their quest for new musical territory. While they went on to create some excellent and memorable albums after this, for me, this is their finest. The production is a little rough, but this just adds to the overall 70s feel of the album. This was the first album where Keyboardsman Ken Hensley took the lion's share of the songwriting. He was on a roll here, with the ideas coming thick and fast.


Fans of Deep Purple ought to check out Uriah Heep: the two bands were quite comparable at this stage in their careers, with David Byron's stratospheric vocal wails matching (maybe topping) those of Ian Gillan, some wonderful organ-work from Hensley, and Mick Box's guitar style being almost as recognizable as Blackmore's. The band also score in their use of multi-part harmonies, whether by multi-tracking Byron or with Hensley and Box adding backing vocals.

This review is available in book format (hardcover and paperback) in Music Street Journal: 2013 Volume 3 at lulu.com/strangesound.
Track by Track Review
Bird of Prey
The opener begins in time-honoured way, with a heavy guitar and Hammond organ riff bursting in. David Byron's vocals soar, incredibly high-pitched, over this. The combination of guitar screams, organ and vocals produces some eerie effects. The ending wanders off on a chugging riff, interspersed with bizarre bursts of "ooh" and "aah" from the combined vocalists.
The Park




Ken Hensley's elegiac Hammond organ tune winds in over echoed rim-shots from capable sticksman Keith Baker (who sadly was only on board for this album – the drum stool being a constant place of change in Heep's long history). Mick Box's acoustic guitar comes in with a delightful finger-picked chord sequence. Hensley adds a harpsichord.

Byron sings wistfully about loss and love in his high falsetto, double-tracked on the chorus and thereafter. The bass introduces a stop-start jazz interlude, complete with sounds of people and birds (presumably in the park). Then they return to the original Hammond, rim-shots and vocals for the last verse and chorus.
Time to Live
This is a heavy song, not only in the instrumentation, but also in the subject matter. A man in prison reminisces about his life and his regrets. Box's wah-ed guitar melody sinuously snakes around before the vocals come in, and then he drops back to chords. In the other speaker, Hensley's Hammond cooks up a storm. Box does a quick solo before the sting in the tail of the last verse, where it is revealed just what the subject did to end up in prison.
Lady in Black
This song was released as a successful single many years later (when most of the personnel on this record had moved on). It has a folk feel to it, starting off very sparse, just a minimal backing of acoustic guitar and echoed drums to the vocals. The power is increased with each verse: more instruments coming in (including mellotron and additional vocals), until by the end it's quite a heavy rocker. Just before the close it drops back to just the drums and vocal chorus, but the other instruments rejoin for the last fade-out.
High Priestess
The opener for what was side two of the LP is another heavy rocker, with Byron screaming away in his trademark style. But it starts with Box's multi-tracked guitars picking out harmonics and slides, before belting out the main riff. There's a twin-guitar lead before the chorus. On the second verse, Byron's vocals get the multi-track treatment to form Queen-like scales. On the guitar solo playout, Byron's vocals sound like they've been pitch-shifted – unearthly and brittle.
Salisbury
This for me is the highlight to the album (and — I confess — possibly my favourite Heep track of all time). But I will admit that it takes some getting used to! With many of the bands active at this time, the line between "rock" and "progressive rock" was unclear and blurred. Most groups were interested in pushing the boundaries of their music, so it is not at all surprising to find oddities and experiments on mainstream rock albums. Heep were certainly keen to try out new ideas, and this offering shows that they had the guts to take that step into the unknown. Hensley's Hammond is joined by a brass/woodwind orchestra, playing some beautiful parts. After a short dark section, we get a burst of Hammond with high-pitched blasts from the horns, in an almost spaghetti-western like section. It's totally over the top! Then the main theme comes in, with the brass stabbing away over Hensley's Hammond riff. Box's guitar comes in over the top. Then there's a flurry of organ and brass scales. The first verse beginneth. . . Byron's vocals are at their finest here, conjuring up a story of a couple about to make tender love for the first time. The band pound a beat while the brass sails over the top, and then it drops down into a jazz interlude, with Box's guitar and Hensley's Hammond doubling up the melody. There are sort of Bond-theme stabs, before the tune descends into a new mood via a rapid walking bass-line from Paul Newton. This builds up to a peak with the horns screaming at the tops of their lungs, sounding for all the world like a swing jazz band. The organ introduces a new theme, with subdued flute embellishments, as the bass establishes a driving groove. Byron sings a new song, of pain, regret and loss, in the "alone again" section. The effect of the new chorus is awesome, as the ethereal backing vocals build up with the horns. Box gets a string of solos, each more frenetic than the last, using his wah-pedal to great effect. The horns stab to add more drama. A reprise of an earlier turnaround takes the song back to the main theme. Newton's bass nicely accentuates the vocals here. The number ends on an accelerating playout, building up in intensity and speed until Byron issues a piercing scream. The listener is left drained, but with the urge to put the track on once again.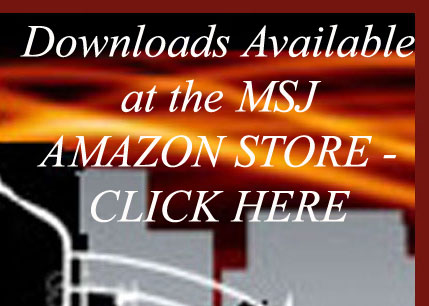 You'll find concert pics of this artist in the Music Street Journal members area.
You'll find an audio interview of this artist in the Music Street Journal members area.

This work is licensed under a

Creative Commons Attribution 3.0 United States License

.


© 2023 Music Street Journal
Site design and programming by
Studio Fyra, Inc./Beetcafe.com